Fiddle Leaf Fig
You would have probably never have thought that the fiddle leaf fig is also part of the ficus family but it is.

Its official botanical name is Ficus Lyrata & also why it's considered to be types of evergreen plants its leaves are green all year round. Learn of these tropical rainforest plants and how diverse they are as far as being grown indoors as well.

The fiddle leaf fig is not the same as a fig fruit tree.

The fiddle leaf is a very big and broad leaf plant that really is quite a stand out tree with its unique shaped leaves.

This tree is said to have originally grown in the Malaysian Rainforest, Africanin Congo Rainforest, Southeastern Asia Rainforest and in its natural habitat will grow up to 40 feet tall.

When you grow it in your garden you probably won't let it grow that tall but if you have in a pot in your home, you can control the height by trimming and pruning but also by growing it in a container the container its self will contain the root system therefore restricting it to grow too big.



Custom Search
Rubber Trees For Sale
Just click on any of the picture links below
to purchase these awesome tropical house plants.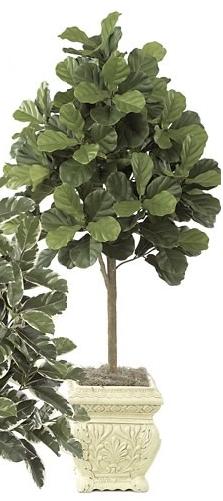 Autograph Foliages 5 Foot
Fiddle Fig Leaf Tree Green
This picture was taken by Forest and Kim Starr The have the site Plants Of Hawaii, check it out, Its awesome!!
This ficus Lyrata love lots of sunlight and grow best if the get lots of it.
They also needs lots of moisture and love frequent sprayings of water from a water bottle will do just fine. Depending on conditions as far as how much sun light or if indoors in the winter this plant will have to be watched to make sure the soil doesn't dry out, so keep it moist.
But if you over water this may kill your plant, so keep an eye on it if its getting too much water or not enough the leaves will start to turn yellow. Keep it on a even watering schedule.
The fiddle leaf does not like the cold so try to not let the temperature below 55 degrees.
It is also important to fertilize often, this rainforest plant loves nutrients.
Return From Fiddle Leaf Fig Back To Tropical Rainforest Plants

Return Back to Tropical Plants Flowers AndDecor Home Page